Hardwood Now is a experienced company in wood repairs for all cases, can be: solid wood, engineered, laminate, we can fix for you.
Having hardwood flooring in your home gives it a charming look and feel. Unfortunately, accidents can and do happen, causing damage to your beautiful hardwood floors. If you have children or animals, your hardwood flooring is at a higher risk for accidents. Fortunately, hardwood flooring repairs are easier than ever with Hardwood NOW. Flooring repairs may involve various techniques depending on the type of flooring material that involves sanding, staining, and refinishing services to restore their appearance. It involves identifying and repairing any cracks, scratches, dents, or other issues that may affect the floor's appearance or functionality. Our Engineered hardwood floor repair may involve repairing the surface layer of the flooring. This may involve replacing the damaged section or using a filler to repair minor scratches or dents We also specialize in hardwood floor repairs, which are almost seamless every time; and offer affordable flooring repair services to homeowners in the Tri-State Area.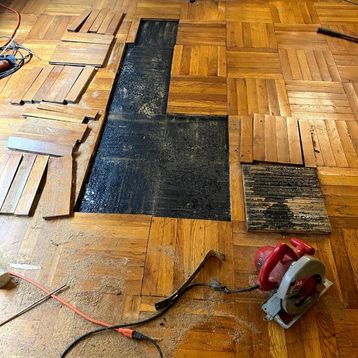 Wood Flooring Repair by Hardwood Now
If you have a few minor blemishes, such as scratches or minor water stains, our trained flooring professionals can perform flooring repairs by dustless sanding the area and applying 3 coats of clear floor finish to make your hardwood flooring look brand new. Once the floor repairs are complete, you will never be able to tell there was ever work done on the area.
You removed an old carpet and you see a wood flooring replaced with some piece of plywood or a pipe role from an old radiator? Do not worry, we are able to add wood flooring to match floors and no one will never tell a patch had been done!
If you are satisfied with your existing hardwood floor color, but want to enhance the beauty of it, have us come out and recoat it. Our hardwood flooring professionals will make your hardwood floors look like new in no time.
Benefits of Flooring Repairs
Get a free wood flooring repair work!
Call us and we can help with your wood flooring repair needs.